Text message monitoring
Call log tracking
Website monitoring and blocking
Automatic location notifications and geofencing settings
Social media account infiltration

SMS monitoring
Automatic notifications on predefined issues
Website history tracking
App usage monitoring
Third-party social media app surveillance like WhatsApp, Facebook Messenger, Instagram, etc
Do you suspect that your wife is hiding something from you? Do you have in mind a question, "how to track my wife's phone?" Are you concerned about her safety and want to know her whereabouts at all times? If so, then it's time to learn how to track your wife's phone.
In today's world of technology, there are plenty of ways for spouses to keep tabs on each other. In this article, we'll go over some reliable methods for tracking a spouse's location, including using GPS-enabled phones, software applications, and even surveillance devices. We'll also discuss the legal implications of spying on a spouse and provide tips on how to do it responsibly. By following these steps, you can gain peace of mind and be sure that your spouse is safe while still respecting their privacy.
You may also like: How Can I Track My Husbands Phone without Him Knowing
Reasons Why You Want to Locate Your Wife
There could be many reasons why you may want to locate your wife. Whether it's due to concerns about her safety or an overall lack of trust, keeping tabs on a spouse can give you peace of mind. Or, even you simply have some concerns, "how can I track my wife's cell phone?" In some cases, it can also help protect against unethical behavior such as infidelity and financial mismanagement. Ultimately, the decision about whether or not to track a spouse should be made carefully after considering both the legal implications and their personal feelings.
Proof of infidelity: One of the most common reasons to track a spouse is to gain proof of infidelity. If you suspect that your partner is unloyal, using a tracking tool can help you prove or disprove this suspicion. In the event that the suspicions are confirmed, evidence gathered by a tracking tool can also provide grounds for legal action.
Concern: Tracking a spouse can help to ease the fear and anxiety of not knowing what they're doing when they're not with you. Monitoring their digital activity, such as text messages, emails, social media accounts, and phone calls, can provide insight into where they are, who they're with, and what kind of activities they're engaged in.
Surprises: While it may come as a surprise to some, tracking a partner is not only acceptable but also necessary in certain cases. For example, if you suspect that your partner is cheating on you or engaging in activities that put them in danger, a tracking tool can help you get the facts.
By using wife tracker, you can monitor every move your partner makes and be alerted when they do something suspicious or out of character. This kind of monitoring helps protect both parties from potential harm or abuse and keeps everyone safe and secure. Furthermore, it gives you peace of mind by providing evidence for any claims made against one another.
Track My Wifes Phone by Number: Instruction
Localize.mobi is the best service for tracking your wife's phone by a number of the question of "how to track my wife's phone" bothers you.
Input your phone number and type in the message you want to send.
Through Localize, you can effortlessly send a notification containing an URL for the phone's location tracking.
When the recipient selects the link, you can pinpoint their exact location.
With Localize, tracking someone is a breeze – no physical access or apps are required. All you need to do is visit their website and enter the target phone number. Sign up for a subscription or initiate your trial period, and you'll receive an instant location request sent directly to that person's device! It doesn't get any easier than this; start using Localize now to effortlessly track anyone in the world with just a few clicks of your mouse!
For only $0.89, you can unlock all of Localize's unique features and take advantage of their complex phone tracking services for an entire day! You won't find such unbeatable pricing anywhere else on the market – so why not give it a try? Personally, I can say that it helped me to track my wifes phone by number.
With a subscription to Localize, you can fully utilize the service across multiple devices with no limits. Track as many phone numbers as your heart desires while your subscription is still in effect!
Read the Localize.mobi review to find out some specific details!
Can I Track My Wife's Phone without Her Knowing?
Spy apps could be the solution you need if you're looking for a way to track your wife's phone easily. If you constantly have thought of "can I track my wife's phone without her knowing," then these ways are for you! These powerful applications offer advanced features like GPS tracking, call monitoring, and access to text messages that can help you stay in the loop on your loved one's whereabouts. With these easy-to-use tools, you can keep an eye on your partner from anywhere with just a few taps of your finger! So don't wait – explore the benefits of using spy apps today!
mSpy
mSpy is one of the most reliable and feature-rich spy apps on the market today. I tried this method after referring to a few ways to track my wife's phone for free. This application lets you monitor your wife's phone activity in real time, giving you full access to her SMS messages, call logs, browsing history, and more. You can even hear conversations as they happen – without ever having to leave your house! mSpy also offers excellent customer support so you can feel confident that all of your needs are being met. Try out this top-rated app now and start keeping track of your wife's phone activity with ease!
Eyezy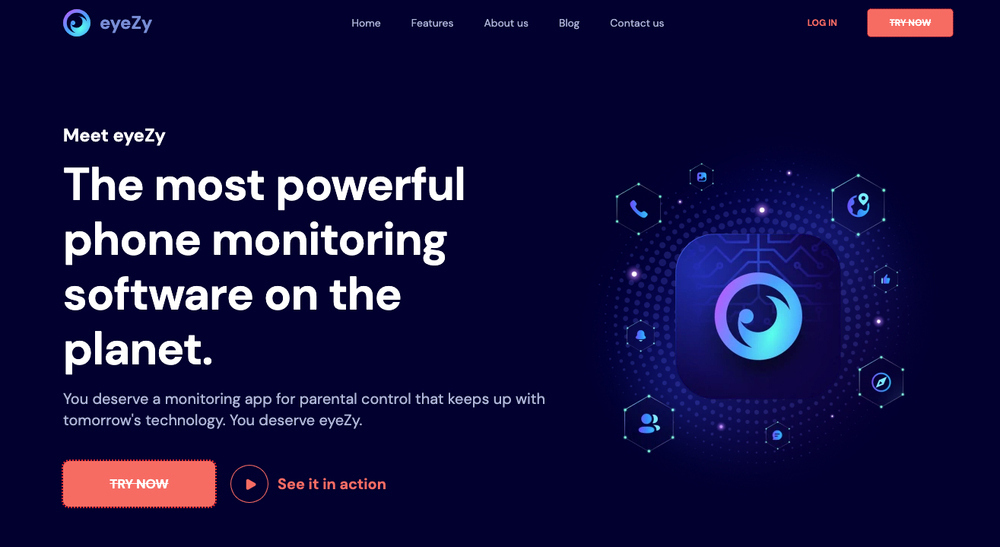 Eyezy is a powerful and easy-to-use spy application that can help you monitor your wife's cell phone activity without having to access her device. This app gives you the ability to view detailed logs of all calls, messages, images, and browsing history. You can even set up alerts, so you're immediately alerted when an unwanted contact appears on her phone. Don't wait any longer – start protecting yourself today with Eyezy!
SpyMonster
SpyMonster is a reliable and powerful monitoring app that can help you keep track of your wife's cell phone activity. This comprehensive tool provides detailed logs of all incoming and outgoing calls, text messages, photos, and web browsing history. You also have the ability to set up remote alerts, so you know immediately when something suspicious is going on with her device. Try SpyMonster today and take control of your security!
What Else Can You Monitor With Spy App?
Besides texts, calls, and locations, spy apps can monitor a wide range of activities on the target phone. They are an amazing solution to answering the question of "how can I track my wife's location without her knowing." Some of these features include:
Monitor social media activity – View all the messages sent and received on popular social media platforms like Instagram, WhatsApp, Facebook Messenger, and Snapchat. You can even see deleted conversations!
Keyword alerts – Set up a list of keywords and be alerted whenever they are used in any conversation on the target phone.
Monitor browsing history – See what websites were visited and for how long.
Block inappropriate content – Use the app to block access to certain sites or even apps, like games and social media.
Set up geofencing – Create virtual boundaries and receive alerts whenever the target phone user enters or exits a certain area.
Track location – Get real-time updates on the phone's exact location. 
View multimedia content – See all photos, videos, and audio that were sent or received on the target phone.
Read emails – Keep an eye on emails sent or received by the target phone user.
How to Use Spy App to Track Your Wife's Location
Step 1: Sign up for an account. Register by entering your email address, creating a password, and providing other necessary information.
Step 2: Choose the type of subscription plan that best suits your needs. You can compare different plans on the official website or contact their Customer Support Team for assistance.
Step 3: Install the software on your wife's phone. If she uses an iPhone, you'll need to provide her credentials in order to monitor her device remotely. For Android phones, download the app from Google Play Store and follow the instructions on the screen.
Step 4: Once installation is complete, log in to your dashboard using provided credentials. This is where you'll be able to view her phone activity, such as calls, text messages, and more.
Step 5: Use the app's advanced features to monitor your wife's phone activity further. For example, you can track her location in real-time or even set up restrictions on her use of certain apps and websites.
Step 6: Monitor the data provided by the app regularly and keep tabs on any suspicious activities that you may notice on your wife's phone. If anything seems out of the ordinary, don't hesitate to take appropriate action based on what you've uncovered through monitoring. Be sure to delete all traces of the spy app from her phone once finished your investigation. However, remember the apps mentioned above work in stealth mode.
Step 7: If you find evidence of your wife's infidelity, take a few minutes to assess the situation before making any rash decisions. Consider speaking to a trusted friend or relative for advice and guidance on proceeding with the knowledge you have uncovered.
By following these steps, you can use the spy app to monitor your wife's phone activity for signs of infidelity and make an informed decision about what actions to take next. With this app, you'll have all the information you need at your fingertips to make an educated decision about what is best for your relationship. Good luck!
Track My Wife's Cell Phone Location Free
The idea of tracking your wife's cell phone activity for free may seem too good to be true, but with the right tools, it is possible. However, keep in mind the potential risks! I faced them when I decided to track my wife's cell phone location free.
Method 1: Find My
The first option is to use the free Find My app to track your wife's cell phone activity. All you need is an Apple ID associated with your wife's device. Then, simply log into iCloud and select 'Find My' from the main menu.
Once you're in, click on 'All Devices' and search for the device name. If it shows up, you can view its location as well as all of its recent activities, such as calls made and received, messages sent and received, emails sent or received, web browsing history, etc. This will allow you to see if she has been communicating with someone suspicious or spending time in a place she shouldn't be going to. I tried this method when looking for ways how to track my wifes cell phone for free.
Method 2: Google Location Services
Google Location Services is another way to track someone's phone activity. It works by using GPS coordinates from a person's phone and providing real-time information about their location. This service can be used to track both Android and iOS devices. It is an accurate way of tracking someone's whereabouts, as it receives data straight from the device itself.
Google Location Services also allows you to set up alerts for when a person enters or leaves certain areas. This way, you can be sure that your loved one is safe, even if they are not near you. Additionally, it allows you to share your location with family and friends so that they can view your whereabouts as well.
Method 3: Locate the phone using IMEI
IMEI stands for International Mobile Equipment Identity number, and it is a unique identifier found on almost all modern smartphones. I found out that it is possible to find my wife's phone location free using its IMEI number by lodging a formal request with your service provider. The service provider then contacts the device's manufacturer and obtains their location data.
This method is not particularly recommended as it can take quite some time before you get an update on the device's whereabouts. Additionally, this method might not work in certain countries due to privacy and security laws that prevent service providers from sharing such information.
Conclusion
In conclusion, when I need to track my wife's phone GPS, then spy apps are the most reliable way. It is fast, easy, and efficient to use. Additionally, the spy apps offer a variety of features that can be used to monitor your wife's activities. They also help protect your children by monitoring their online presence and helping you detect any potential risks.
It is important for couples to trust each other and have open communication about their whereabouts when apart. Ultimately, if your relationship with your wife requires you to track her activities remotely, then using spy apps is the best way to do so.
With the right app and some basic knowledge, you can track your wife's phone without her knowing, giving you peace of mind that she is safe and secure at all times. With this information in hand, you can rest assured that your marriage will remain strong no matter the circumstances.
Good luck!